HO - Other Products
Trolleys - Miscellaneous

Can Motor Adaptors.
NEW!!!
Trolley Power Truck Geared Truck,Motor and Trailing Truck. Great for Any HO Traction Body. Fantastic Operation. Great low speed operation!!!.
Specifications:

•

6' 6" Wheel Base Power Truck

•

Can Motor

•

Universals and drive shaft

•

Gear box with bearings

•

All-wheel electical pickup

•

Bolster with screw holes for mounting geared truck

•

Electric track brake, Brill, IRR & Balwin

•

Side frames included

Can Motor Adaptor Mechanisms:
Repower your older model HO trolley car with our new HO trolley adaptor mechanisms. Included is a die cast floor, can motor and mounting hardware for adapting your trolley body to our new can motor drive. Our adaptor mechanism is fully assembled and track tested.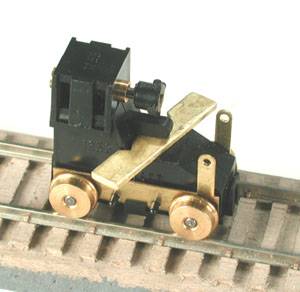 Brass Bolster for Power Trucks

.

NEW!!!

This 1 1/4 inch long bolster will snap in place on the power truck. It can be soldered to, cut, drilled and tapped. This allows you to use it for many different applications.



Pole - HO Overhead Pole System




HO Operating Trolley Roof Pole




Miscellaneous Trolley Parts:

The HO Overhead Pole System includes 12 poles, 25 feet of wire and wire clips for the pole.

Thank you to George Huckaby, Jr. for all of his help on our trolley project.
Visit his web site for PCC Trolley & ALINE Information. .

See our links page or jump to Trolleyville - this site has a lot of useful info.







HO & O Gauge Overhead Traction Parts by Friedlein's Rail Replicas


(not available from Bowser)



Order from:



| | |
| --- | --- |
| | Friedlein`s Rail Replicas |
| | 8624 Ellen Court |
| | Parkville, MD 21234 |



Lost Wax Brass Castings.

Wire is not included.